Welcome to the "All About the 70's" Blog Hop!!
We're so happy you could join us for this super-fun hop showcasing cards, layouts and projects that feature anything and everything related to the 70's!! So pull out your bell-bottoms and peace signs, and join us for the FUN... You'll find an array of ideas throughout this hop -- From decorations to gift ideas and more, we hope you'll enjoy each and every GROOVY project along the way!! This is a TWO-DAY hop, so be sure to check it all out (besides, we have a FAR OUT prize for a random someone who visits and comments on each stop for each day!!)...
We can guarantee some psychedelic excitement for this event... So let's get hopping!! If you've hopped over from
Lynda's
, then you are in the right place!! If you've just popped in to visit my blog or are reading this via email and you'd like to join our FUN, then please
CLICK HERE
to start at the beginning with
Lynda's blog
...
For the hop today, I've created .......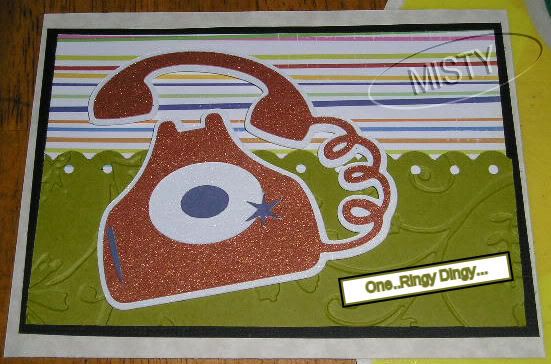 As a child, for years, I was shipped every year from Fla. to NJ to spend the summer with my Aunt & cousins. I will never forget the 'avacado' colored appliances and the bathroom wallpaper. I love this retro phone, which came from "From My Kitchen" cart. I used Copper & white Metallic stock, & Popped up the handset with dimensional tape.
Lily Tomlin
just
Sprang
to mind with this! (This has to be the
ugliest
card I ever made! LOL!)
Thank you again for checking out my project... Now follow the links below and remember to visit all the stops for MAXIMUM ideas and LOTS OF FUN!! Can ya dig it??
Your next stop is...
Links for Day 1 of the hop are also below.
70'S HOP DAY TWO (January 16):
*Here are links for Day 1 of the hop if you missed it!

Pin It