Over at
OWH
Stars & Stamps
is this weeks sketch, #102. I am also including this for my group challenge at Paper Hoarders. Paper Hoarders theme was black/gold/silver & must include 2012. I include the sketch for Stars & Stamps below.
I started with scraps of Wausau Metallics papers in copper, gold & silver, black & blue stock from scrap pile as well. For
OWH
, I turned the card around & made the copper strips thinner on a layer of black. The gold layer was run through cuttle bug. The bells are popped up on 'Sandy' tape. Later I thought maybe I should have run silver bells through the bug...oh well. The silver sentiment with black background, was made with Cricut cart 'Stretch Your Imagination' endcaps feature, cut at 1/2". That's where the main trouble started, I started at 1", too big, and moved down in size, only to have the numbers mess up, took 1 new sheet of gold...BUT then realized gold on gold was lost. So 1/2 new sheet of silver later, I finally got one that came out..whew! After adhering the silver 2012 to the black cut, I thought it looked unbalanced, so I added small blue star bling. My DH said it looked like a something for Dallas Cowboys! it too was popped up on foam tape. I took MANY pics, but trust me I have a hard time in any lighting with metallics, it looks 100% better in real life!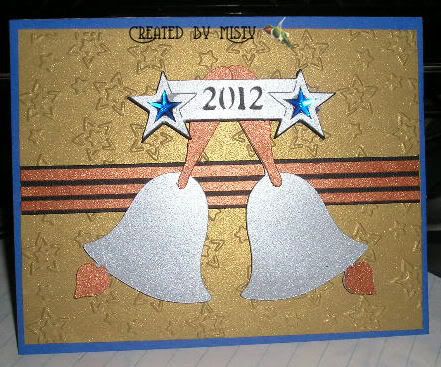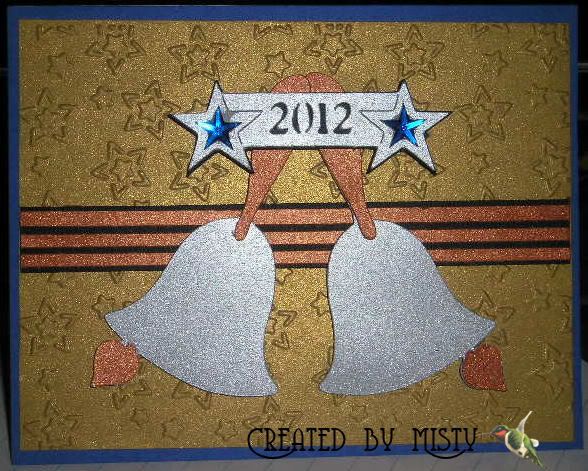 If it stops raining, I might try to take new pictures outside tomorrow.

Pin It