Welcome to the Memories in Tyme blog hop - where you will find some seriously talented people who love to share their ideas with you! Our hop today and is anything relating to summertime - doesn't matter if it is a layout, card, mini album, or decorating item, if it's about summertime…it'll be here!!! With summertime right around the corner - it's all about the heat, sunshine, spending time outdoors, green grass, family, BBQ's, parades…you get the idea!!! Now, if you just happened upon my blog, then please go back to the beginning which is at
Lynda's blog
. Besides, the beginning is always the best anyway!!!
I love this card with its surprise easel fold, Create a Critter and Peachy Keen Stamps were made for each other!
This next card, I had to work backwards from the normal ruffle, meaning I had to start from the top & work down. Every thing was hand torn. I don't have any brown paper so the 'beach sand' is lunch bag, cut, sprinkled, crumpled and hand torn. A2 size card of course. There are 5 layers of 'waves', but it is still very flat. All cuts from CAC Cricut Cart. Peachy Keen wide Eye Kids asst stamps. While you can not see it in photo, each wave layer is ATG down on bottom, the top of the wave is 'popped up' with dots. I left room for a future sentiment on the top left.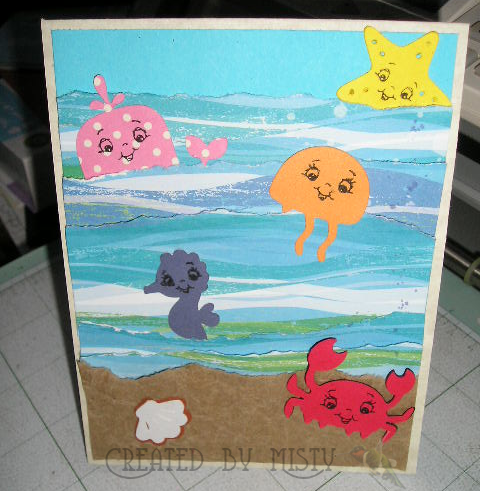 Blog candy from Memories in Tyme…One lucky winner for June will receive a goodie pack for scrapbooking - in order to get in on the drawing, make sure to:Follow the rules posted on her blog.
Thank you for checking out my project, now follow the links below and remember to visit all the stops for MAXIMUM ideas and LOTS OF FUN!!! Next up on the hop is
CLAIRE
, make sure you check out her fun project!!!
1.
Lynda J
2.
Anita
3.
Rachel
4.
Misty<---YOU ARE HERE
5.
Claire<--- NEXT STOP!
6.
Suzanne
7.
Lucy
8. Lisa
9. Janet
10. Rhonda

Pin It