With all the job changes here in our home, the reduction in incomes and the economy in general. I always look for a super sale or BOGO sales. We are eating a lot more chicken! LOL! but I have over 100 cookbooks, some from the 1800's so there is no lack of versatile recipes.
Bacon Wrapped Double Cheese Stuffed Chicken Breast
*Boneless chicken breast
* For each breast, you will need;
* 4 pieces of bacon.
* 1 oz Cream Cheese –softened
* 1 tsp. finely chopped garlic. (I use more) or chives.
*About 2 TB shredded sharp cheese (or your choice)
*Toothpicks
Heat Oven to 350°
Pound each breast flat. (Figure 1)
Spread cream cheese over inside of breast keeping mostly in the middle.
Top CC with garlic, then your shredded cheese.
Add S & P if you wish.
Place chicken on top of bacon that is arranged
as seen in Figure 2.
Roll chicken from short ends, and then wrap bacon around and pin well with toothpicks.
Place wrapped chicken on racked baking tray, seam side up. (Figure 3) This will help bottoms get crispy as well, and keep food out of grease.
I am sorry, but my camera was dying and the finished, plated meal was just a bad blur, worse than the quality of these 3.
I serve this with noodles parm, a veggie, salad & bread.
All of the above ingredients can be changed to more or less or different flavors depending on your tastes.
You can also make it without bacon.
*~
Do ahead tip. Double up recipe.
Place ½ of the wrapped chicken on parchment or
Pam® covered tray. Freeze, then package up, date & mark and save for another day.
Just add about 15-20 minutes to cook time from frozen state.
Figure 1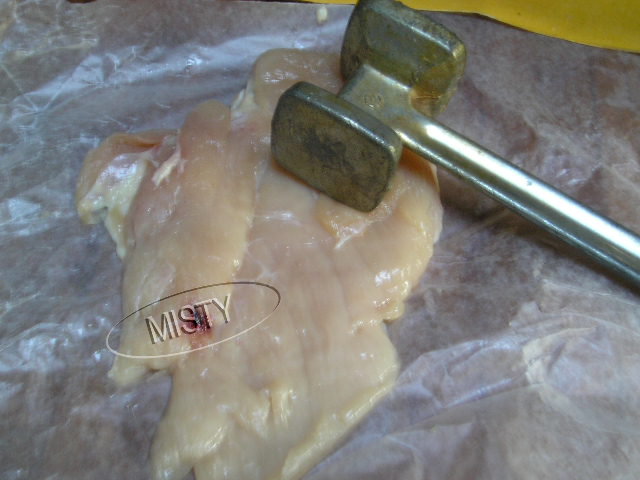 Figure 2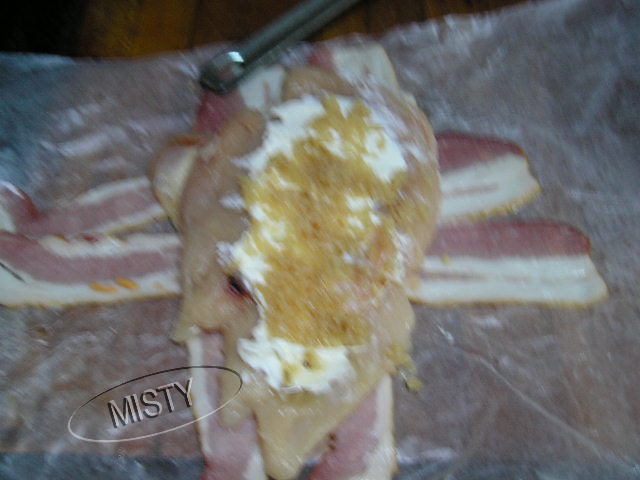 Figure 3


Pin It