With a splash of color! I have seen so many YouTube's, tuts, and blogs doing this in the past, but never tried it myself. Because of the circumstances, I must use what I have. I have plenty white card stock, so I tried to do this white on white. I only have 5 ink pads and of those, only have black & green ribbons to match. So I started with green. You know what? Y'all are right! This was hard!
I started with a standard A2 base 5.50 x 4.25. Next layer,1/8" smaller and I ran it through the Cuttlebug using the 'swiss dots' folder. Then wrapped green ribbon around that.
Next layer is the #5 die from Spellbinders Labels Eight set. I 1st embossed a piece of paper with the cuttlebug folder 'divine swirls', then cut & embossed using the spellbinders #4 in the set. So that layer was double embossed! Layer is popped up on "Sandy tape."
Layer #3. Stamped in my one green pad. I used #4 die from the same set, just cut and emboss one time.Again, Layer is popped up on "Sandy tape."
Inside, I added one layer of card stock liner 1/8" smaller and using the smallest die in the set, I stamped, in the matching green, a butterfly from an old Hero Arts set 'Kimono'.
Need to put these away ASAP! Lost 3 cards the other night. Tom let cat in, cat walked on table, since no one was around to yell at him and cards now all have muddy cat paw prints!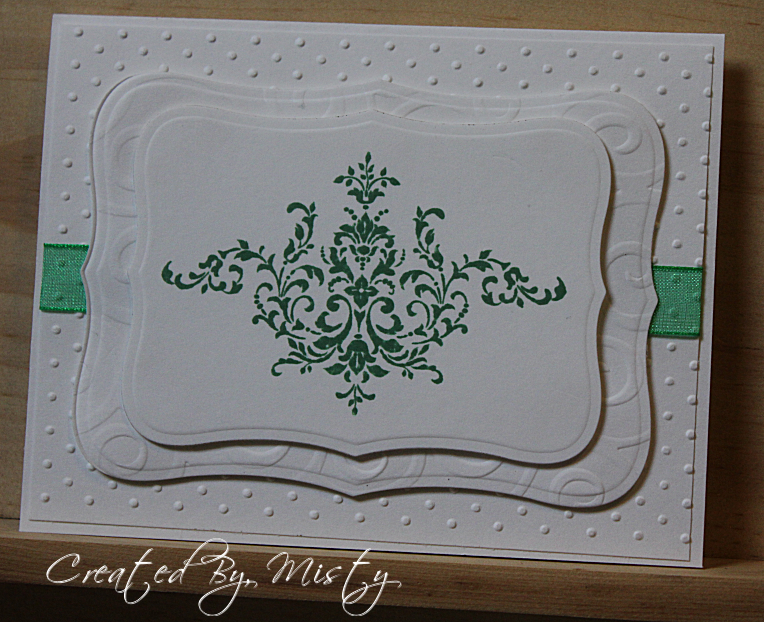 Challenges,
Pink Gem -
Emboss It


Pin It