I fixed my version of Schweine Schnitzel. I started eating before I took the picture, it just smelled so good and I was starving..lol! Recipe is below if you'd like it.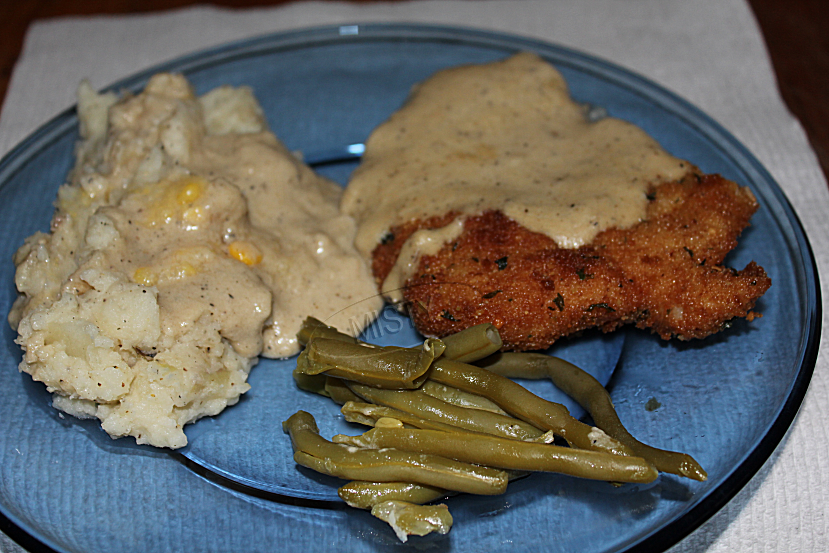 Recipe for Schweine Schnitzel
1 boneless pork chop* per person.
Flour
Bread Crumbs
2 Eggs
Water, Milk or Beer.
Heat about 2-3" oil in a cast skillet.
Place pork between wax paper or in a plastic zipper bag. Pound out very thinly. Kids love to do this!
Pat them dry with paper towel.
Place flour in 1 bowl, bread crumbs in another. Crack and beat eggs in 3rd bowl & add a few tablespoons of your choice of beverage.
Coat meat in flour, then into egg wash, then into crumb bowl.
Place carefully into pan of hot oil & fry till golden, turn and cook other side.
Drain on paper towels or black print newspaper & hold in warm oven if needed.
* You can also use chicken or beef*
I serve with garlic pepper mash potatoes & a country pepper gravy, veggie, in this case green beans picked from garden & a side salad.
Because these are so thin, I have everything else ready to plate as soon as each one is done.


Pin It