I designed this for a special friend. Since she lives on the other side of the world, it will be late for Christmas.
Recipe is below.
inside;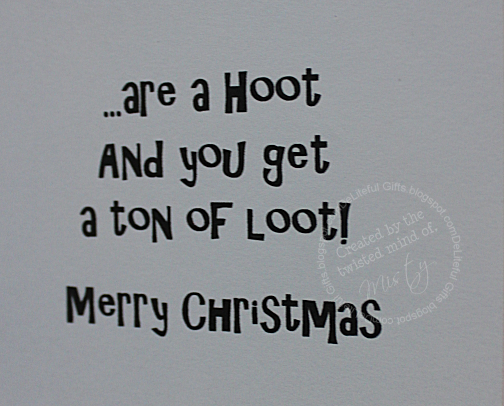 Now, the inside is bright white, not gray and I am sorry for the glare(s) off the card fronts. Ths skylights were covered with snow & the lighting was dismal.
I did graphic & sentiments in PSP & WC. I cut a circle in center of red layer & used ATG to attach the owl. I also used a larger die to cut craft plastic into a circle that I placed on top of the owl. I again used spellbinders to cut the frame for the center circle out of a sheet of Christmas DP. Front sentiment is popped up on 'precious'. I think I am going to like this craft plastic, except when it comes to taking pictures.


Pin It