My daughters taste has become more refined. For this years class party at her Votec, instead of cookies or brownies, she wanted to bring cinnamon bread. This, then, is the result, with recipe for you below.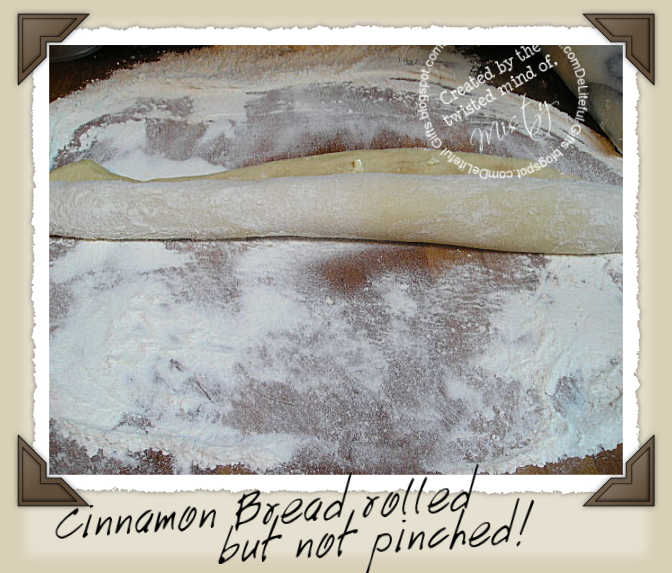 Recipe;
(Sweet Roll Dough)
1 package active dry yeast
1/2 cup warm water (105-115)
1/2 cup lukewarm milk (scalded then cooled)
1/3 cup sugar
1/3 cup margarine - or butter - softened
1 teaspoon salt
1 egg
3-1/2 to 4 cups all purpose flour
Dissolve yeast in warm water in large bowl. Stir in milk, sugar, butter, salt, egg, and 2 cups of the flour. Beat until smooth. Mix in enough remaining flour to make dough easy to handle. Turn dough onto lightly floured surface; knead until smooth and elastic, about 5 minutes. Place in greased bowl; turn greased side up. Cover; let rise in warm place until double, about 1-1/2 hours. (Dough is ready if an indentation remains when touched.) Punch down dough.
Roll 1/2 of the Sweet Roll Dough into a rectangle, 15x9 inches, on lightly floured surface.
Spread with one of the fillings (below).
Roll up tightly, beginning at 15-inch side.
Pinch edge of dough into roll to seal well.
Stretch roll to make even.
With sealed edge down, shape into ring on lightly greased cookie sheet.
Pinch ends together.
With scissors, make cuts 2/3 of the way through ring at 1-inch intervals.
Turn each section on its side.
Let rise until double, about 40 minutes.
(APRICOT CHERRY FILLING)
Mix 1/2 cup finely cut-up dried apricots and 1/2 cup finely chopped marachino cherries, drained on paper towels.
(CINNAMON-RAISIN FILLING)
2 tablespoons margarine or butter softened, 1/2 cup packed brown sugar, 2 teaspoons ground cinnamon, 1/2 cup raisins
Spread margarine over rectangle; sprinkle with brown sugar, cinnamon, and raisins.
(DATE FILLING)
1 cup cut-up dates, 1/4 cup sugar, 1/3 cup water, 1/3 cup coarsely chopped nuts
Cook dates, sugar and water over medium heat; stirring constantly, until thickened. Stir in nuts; cool.
~for ring after filling and putting together:
Heat oven to 375. Bake until golden brown, 25 to 30 minutes. (If tea ring browns too quickly, cover loosely with aluminum foil.) Spread ring with Glaze (below) and, if desired, decorate with nuts or cherries while warm.
GLAZE
Mix 1 cup powdered sugar, 1 tablespoon milk and 1/2 teaspoon vanilla until glaze is smooth and of desired consistency.


Pin It